Page modifiée le :
Carte Odroid Xu4
Software and hardware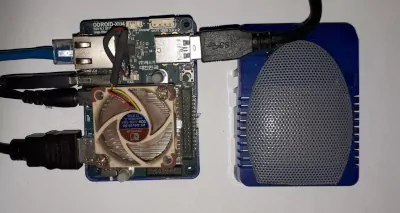 Le site web Omega est auto hébergé sur une carte Odroid Xu4. Cette carte fonctionne sous Armbian Buster (Une version Arm de Debian). Le serveur Web est Apache.
Brèves
IPv6 et fichier rc.local
Vous avez plusieurs machines dérrière une box ? Vous avez qu'une adresse IPv4 publique qui ne peut donc être "natter" que sur une machine. Aujourd'hui (Depuis même un moment), vous avez personnellement plus adresses IPv6 qu'il n'existe IPv4 dans le monde ! Chaque machine communique avec sa propre adresse sur internet. Il n'y a plus de NAT. Pour améliorer l'anonymat, cette adresse change régulièrement, mais dans le cas d'un serveur, il faut fixer cette adresse.
#!/bin/sh -e # # rc.local # # This script is executed at the end of each multiuser runlevel. # Make sure that the script will "exit 0" on success or any other # value on error. # # In order to enable or disable this script just change the execution # bits. # # By default this script does nothing. # Add static Ipv6 /sbin/ip -6 addr add 2a01:e0a:195:3040:fac9:219b:207e:d823/64 dev enx001e06300937 /sbin/ip -6 route add default via 2a01:e0a:195:3040::1 exit 0
Le Ventilateur
Le bruit du ventilateur peut être gênant selon la pièce où l'Xu4 est installé. Il est possible de définir 4 vitesses et 3 seuils de déclenchement de ces vitesses. Les vitesses de rotation du ventilateur sont dans le fichier
/sys/devices/platform/pwm-fan/hwmon/hwmon0/fan_speed
; Les seuils de déclenchement dans les fichiers
/sys/devices/virtual/thermal/thermal_zone0/trip_point_0_temp
(+trip_point_1_temp et trip_point_2_temp).
Ces fichiers ne sont pas de véritables fichiers dont les modifications peuvent être enregistrées. Les modifications doivent être refaites à chaque démarage. Malgrés tout, il est possible d'automatiser ces modifications dans le fichier
/etc/rc.local
.
#!/bin/sh -e # # rc.local # # This script is executed at the end of each multiuser runlevel. # Make sure that the script will "exit 0" on success or any other # value on error. # # In order to enable or disable this script just change the execution # bits. # # By default this script does nothing. # manage the fan if [ -f /sys/devices/virtual/thermal/thermal_zone0/trip_point_0_temp ]; then echo '60000' > /sys/devices/virtual/thermal/thermal_zone0/trip_point_0_temp echo '70000' > /sys/devices/virtual/thermal/thermal_zone0/trip_point_1_temp echo '80000' > /sys/devices/virtual/thermal/thermal_zone0/trip_point_2_temp fi if [ -f '/sys/devices/platform/pwm-fan/hwmon/hwmon0/fan_speed' ]; then #set fan speed echo "38 120 180 240" > /sys/devices/platform/pwm-fan/hwmon/hwmon0/fan_speed fi exit 0